Back To Our Services
The surprise is that "Garage Door Repair Levittown" is not only a garage door specialist but also specializes in gate repair services. Though, the excellent results of its work are expected. Existing clients know well that we excel in both garage and gate electric systems and this is due to our selection to work with highly trained and skilled technicians. After many years in this business, our company has managed to build an impeccable infrastructure which in combination with its experience and outstanding organization provides the ground for exceptional services.
Here is what we offer to our clients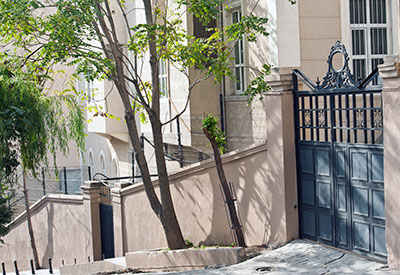 One thing is for sure. We cover the most demanding needs in record time and with excellence due to our knowledge. These are a few of the services we provide.
Gate clicker replacement
We replace lost and broken remotes right away. When they are lost, we help you erase them from the opener for security purposes. Our response is immediate and the new remote is ordered from the manufacturer that has made your opener so that they can be compatible.
Gate intercom installation
Intercom systems are necessary for many gated communities and we have the expertise to install and maintain them. We are familiar with all brands and we provide exceptional services despite their complexities. Whether you need a simple intercom for a single house unit or a complex phone entry system for a big building, you can depend on the efficiency of our technicians.
Gate opener service
Our opener services cover all needs of the system. We maintain, repair, troubleshoot and replace them. We are here to suggest a new solution and install a new one or additional accessories. Our technicians excel in opener maintenance service and are extremely thorough with the inspection, adjustment and all services concerning the entrapment protection devices.

24/7 emergency repairsYour emergency problems are handled with speed. Our company has well-organized 24 hour specialized contractors and they are dispatched immediately for instant services.
Rolling gate rollers replacement
Without sliding gate wheels, movement will be impossible. When the rollers are worn, the movement will be noisy and perhaps slower. We make sure the right size wheels are chosen and we will replace them with precision.
Swing gate safety loops sensors replacement
When the sensors are out of order, your safety will be compromised. We actually service sensors of all gate types with equal knowledge and dedication. Our technicians are trained to provide services with compliance to all UL 325 requirements and you can be sure that our response will be amazingly fast when sensors need adjustment or maintenance.
You never have to worry about our technicians being delayed. The fully equipped service vans of our company and the numerous teams ensure that. We are fast for casual services and even faster for urgent services but we are always efficient. Garage Door Repair Levittown guarantees quality service whether you need a simple intervention from our teams or major changes. Our professionalism doesn't allow us to offer less than perfect services and that's why you can always count on us and never hesitate to contact our company for your needs.
Back To Our Services